PThe Spanish Beer Bridge has been established between WRCLW and the best craft brand and team of the best Spanish brewers: Juan Rodriguez awarded the title of the Top Brewer for Naparbier and Beinat Gutierrez, the main brewer at NaparBCN, awarded the title of RateBeer Best New Brewer (2016). It's the first collaborative brewing between Poland and Spain. The aim is to promote Polish and Spanish culture, lifestyle, good beer and cuisine. We have had many engaging conversations about our everyday activities (brewing, cooking, workshops, collaborative projects, events) which actively shape culinary culture of our times. What do we mean by our times? It's what we eat, drink, and what we talk about today. The Spanish market seems so interesting to us, mostly because of its size (#3 in Europe after Germany and UK. It's has come as a surprise that 2/3 of the beer drunk in Spain is consumed in bars and pubs. The only nation that has reached a better result are the Irish. We love exchanging experiences.
NAPARBIER Milky Brain 7,1% alk

Jedno z najwyżej ocenianych ostatnich piw browaru Naparbier! Milkshake IPA. Mocne piwo z duża dozą owoców. Skoro Milkshake – to musi być laktoza a także wiadomo, że najlepszy milkshake to w wersji owocowej więc są i owoce. A konkretnie to mango, mandarynki i brzoskwinia. Całość doprawiona chmielami Citra i Mosaic. Piwo dostępne w beczce i butelce.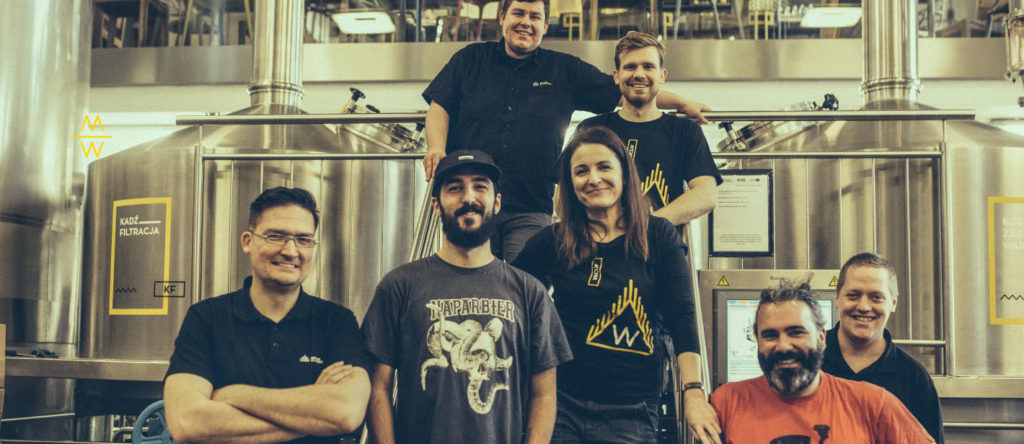 We visited Naparbier's brewing headquarters in Noain near Pamplona. The brewery was established in Pamplona in 2009. We visited their flagship pub in the heart of Pamplona on Plaza del Castillo which is well known for its amazing food and foodpairing, which promotes craft and facilitates the explanation of differences between craft brewing and commercial production. The town is well known for running of the bulls described 100 years ago by Hemingway in his novel "The Sun Also Rises" as well as for their love for Osasuna FC. Naparbier has been working hard to raise craft awareness in Pamplona. Starting from Pils and Belgian Ale Dunkel, Naparbier invested a lot of energy in spreading their creative and uncompromising ideas. Juan Rodríguez, who has recently visited WRCLW to collaborate on a beer project, has focused on persuading people to drink fresh beer. Alfredo Rodríguez, Javier Erro, Sven Bosch, Josu Taniñe and Alex Schmid all do their best to increase the popularity of Naparbier in Spain.
Our collaborative brewing took part in WRCLW. Both breweries are willing to experiment and take risks. ART#11 Double Cherry Rauchweizenbock Strong is wheat beer brewed from cherry-wood smoked malts that have given the beer its aromas of bonfire, smoked meat and fruit. We combined Polish specialty, i.e. cherry-wood smoked malts). We drew from the rich brewing traditions from WRCLW and cooking techniques typical for our culinary traditions: smoking, drying, preserving, salting. We cooked dishes and snacks bringing two cuisines together. We are self-reliant in this field. Our chef, Michał Czekajło, a participant in the Polish edition of TopChef, knows Spanish cuisine well as he completed his professional training at an iconic restaurant Arzak (www.arzak.info/en/).
Join us in WRCLW and Barcelona. One of the most amazing pubs in the world is in Barcelona. Similarly to ours, there is a pub next to the brewery. The NaparBCN has been rated as the best NEW pub in Spain by RateBeer. Naparbier is a legendary brand in Spain. The pub and restaurant have been designed by Lázaro Rosa-Violán, an internationally renowned architect from Spain who has already earned a name for himself as the Almodovar of design: www.lazarorosaviolan.com/en. The architect's works have been appreciated by critics around the world. He's known for uncompromising ideas. His design for Naparbier takes your breath away. Over your head there are 7 huge tanks installed and connected directly to taps. What a wonderful tap takeover it was! As part of the ART#11 promotional tour, we visited Barcelona Beer Festival, Saragossa, San Sebastian, Katowice and Warszawa. In each of these cities we reached people interested in Spanish culture, art, language and dance. We take every opportunity to promote craft, socialize and invite beer enthusiasts to take the first sip!