The Beer Bridge with the Scandinavian craft brewing. Our partners have been: the Swedish brewery Brewski and the Norwegian HaandBryggeriet, with which we have brewed ART#12 Mango, Strawberry and Raspberry Ale. We added the impressive 25% of fruit in natural, unprocessed form of puree and cold pressed juices. It has been the most fruity beer ever brewed by our breweries. This finish is slightly bitter with some cereal tones. Brewing with Brewski means loads of fruit and even more hops. The outcome is fruity DIPA – ART#14 Mango and Peach DIPA. Cheers! Na zdrowie! Skål!
Brewski Conan DIPA 8%

Brewski doubled the strength of India Pale Ale to produce a strong brew from tropical fruit. The aroma includes citrus fruit, exotic fruit and fresh herbs. The flavour includes sweet mango, pineapple and passion fruit balanced with clear bitterness. It is a refreshing, highly drinkable beer without strong feel of alcohol. Available as draft beer and in a bottle.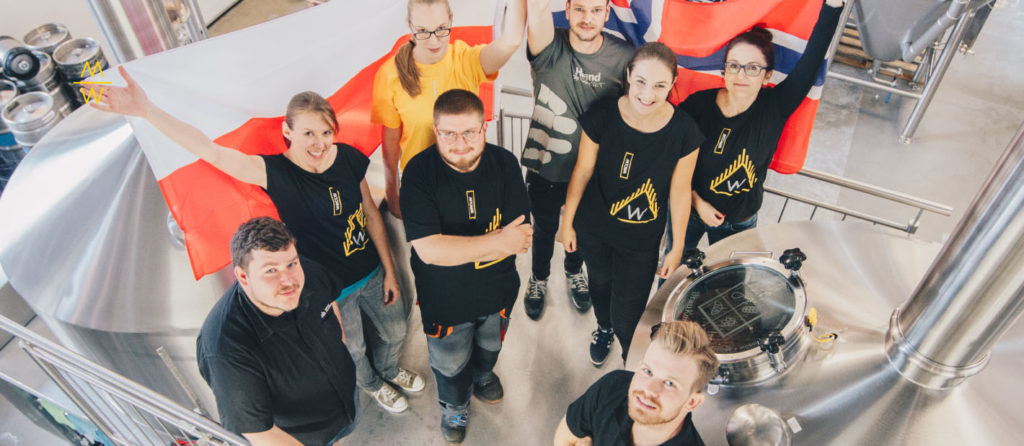 Brewski has built its legend on their attitude to brewing. It is considred the craft icon. They are happy with only one beer brewed after brewing 60 beers, and working on the recipe for many years. Brewski has been cooperating with such well-established brands as: Brekeriet, Against the Grain, Cigar City, Dugges, Evil Twin, Siren, and Warpigs. They are hosts to two amazing festivals: Brewskival in Sweden and Mash in Barcelona. Since our visit in Barcelona we have been working on our collaborative brewing that took place in WRCLW. We promote our beers, common values, design, and cuisine.
We brewed in WRCLW. Meet the Brewer with Fredrik Fölster opened up an opportunity to talk about the Beer Bridge, the Brewski philosophy, common sense, concentration and perfectionism that takes their satisfaction away and motivates them to work harder. Learn more in an interesting interview with Marcus Hjalmarsson at our website https://100mostow.pl/blog/2017/07/27/brewski. ART#14 made its debut at Lublin Craft Beer Expo, the biggest craft event in the Polish Hop Capital, in WRCLW, Copenhagen and Berlin.
HaandBryggeriet, one of the best breweries in Scandinavia, known for its collaborations projects completed with many breweries from De Molen through Stone to BrewDog. The brew a wide range of beers, traditional, new-wave, barrel aged, fruit sour. The first aim of our collaboration was to brew a beer that would sum up our fruit experiences. Fruit Ale is the most fruity beer we have brewed so far. We cooperated to promote it at HaandFest, in Warsaw and Kraków. Kacper Kulpa was the important link and a great ambassador of both our countries. Our aim for 2018 it is to show that we can brew fruity but not sour beers. We brew beers for connoisseurs looking for really great experiences. We are getting familiar with Scandinavian traditions regarding production of wild, sour, woody aromas. It's big thing. We are opening a new chapter.