Jopen, a world-class brewery, produces the most often bought Dutch craft beers. Established in 1992, Jopen has been one of the founders of the European craft revolution. When it comes to the idea of craft, we are definitely on the same wavelengths as the brewery's founders, Michel Ordeman and Lydia Zoetman. We met to start our collaboration project at their beautiful brewery JopenKerk. Being located in a historic building, the modern brewery is equipped with state-of- the-art technological solutions. The brewery is of an urban character. Their aim is to recreate brewing traditions in Haarlem. Since the very beginning, they have focused on recreating native and regional styles. The history of Jopen is actually based on historic beers. It was a bit easier for them to recreate the style as the recipes were preserved in the Netherlands. All it took was to find them in the city archives in Haarlem. Still, the fact is that the brewers believe in and cherish their local heritage.
The hottest debut of 2017!

ART#15 Vanilla and Chocolate Hot Scotch Ale. Collaborative beer brewed in WRCLW. This strong beer is filled with cereal, bread, vanilla, cocoa beans and Habanero peppers! This aromatic and malty mix will keep you warm in winter months. Chocolate, vanilla, gingerbread tones bring to mind the Christmas atmosphere. Spice up your Christmas with Art#15!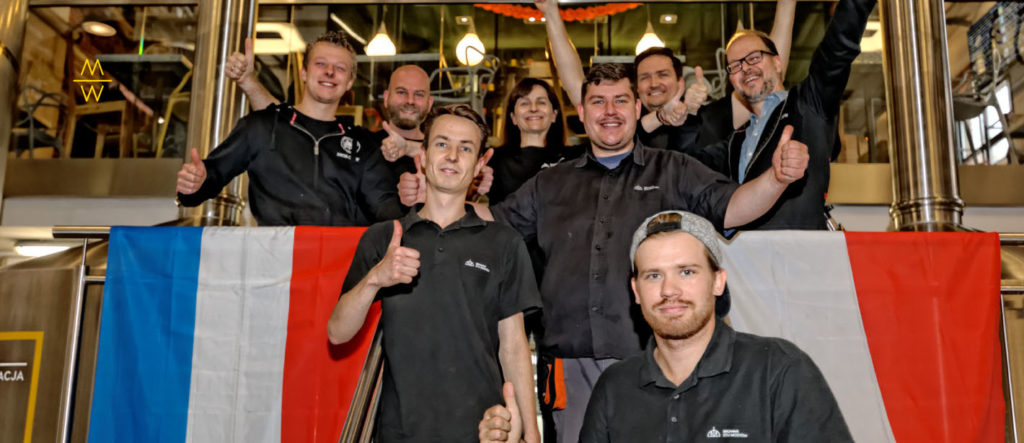 When we met, the owners shared an interesting story of a long-established competition between the brewing and textile industry for "water", which was finally won by the former. We were lucky to taste Jopen Hoppenbier (hops beer), one of the first beers in the West brewed with hops according to city regulations from 1501. As for the classics, we were also served herbal beer and the renowned Jopen Koyt, or jopen beer based on the recipe that goes back to 1407. The name comes from beer barrels which were used in Haarlem in the Middle Ages. We served Schöps whose recipe has been recreated after 250 years thanks to the effort made by a team of historians and brewers. Brewed between mid-16 th and mid-18 th century, Schöps was considered a leading beer in this part of Europe for 200 years. As a wheat symbol of the city Schöps has brought fame to WRCLW.
The goal of our first meeting was to exchange experiences and get our Dutch partners familiar with Polish brewing traditions. Our first collaborative beer, Rye Baltic Porter, was brewed in Haarlem (2016). Polished Black Gold rearranged, with rye malts which is our trademark. Our aim was to brew a beer that would bring to mind Poland and that we could distribute on a wide range of markets. We decided to go for traditional, historic, and classic Polish style that we are proud of. This impressive style has established a beer bridge with the best styles of the whole world. It has surprised our partners and brought our forces together. The beer has been exported to three continents.
ART#15 Vanilla and Chocolate Hot Scotch Ale, is the most recent beer style we have brewed in WRCLW (2017). It is a strong, caramel beer with dark malts aromas, cereal and bread tones, and chocolate flavour. It has been spiced up with hot and spicy Habanero peppers added to slightly spicy drinkable chocolate. What's interesting, they have been grown locally. We have brewed the beer for Christmas season when the most beautiful Christmas markets are organized both in WRCLW and Amsterdam. Our breweries have participated in numerous festivals including the oldest and most popular in Poland the Wrocław Good Beer Festival, Eindhoven, and Poznan beer festivals.