Our collaboration with the Bavarian Brewery started four years ago (2014). We have brewed three beers together, including two brewed in WRCLW. We do our best to take what's best from every brewing school. The Bavarian brewing school is well known for its traditions and excellent beers. Their world famous order in production is a great foundation to carry out beer experiments. To brew new-wave beers, one needs to go back to one's roots and know them well. This is the philosophy of our brewers. We enjoy staying in touch. As part of the Beer Bridge we have access to their wonderful beers brewed in Truchtlaching.
Camba Bavaria Black Shark 8,5%

One of the most highly rated beers of Camba Bavaria, a winner of numerous medals awarded at Meiningers International Craft Beer Award. The Bavarian Black IPA with beautiful brown foam and a strong bitter finish. There is chocolate, cereal coffee, and resinous aromas. The flavour includes bitterness produced by hops and balanced with malts, as well as dry fruit. Available in a bottle.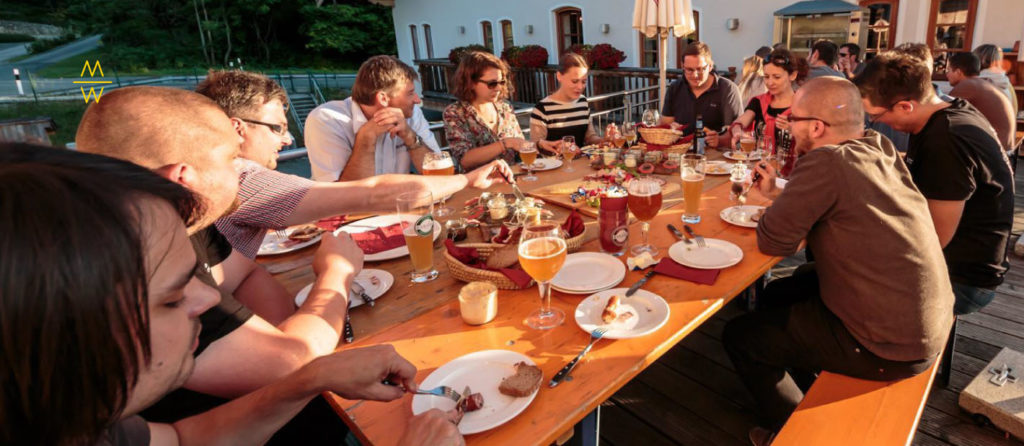 It all started with brewing ART#1 Doppel Weizenbock German IPA, an unusual combination of two, apparently incompatible, styles. The effect has been so spectacular that the beer has earned the status of an icon. It was the first international collaboration for Camba. Here is the coverage – https://youtu.be/seWpNGiMoYU We continued our cooperation with ART#7 German Red IPL. We wanted to show different effects that nearly identical hopping brings about in strong, red lager. Another collaborative brew was Hellertauer IPL. The idea was to present Helles Bock in a refreshed craft version with new-wave hops from the Hallertau region..
It was in Bavaria that we brewed outside Wrocław for the first time! We've been invited by Camba Bavaria to the world's biggest hop growing region. Our visit has sparked off a debate about the freedom of brewing that Polish breweries enjoy. Contrary to Poland where there are no limits as to beer brewing, Bavaria faces the challenges of the 500-year- old Beer Purity Law, which bans using other spices than hops. It was introduced to ensure the quality of German beer. The meeting has inspired us to explore the topic of our competencies and developing hop fields in Poland. This is the reason why our collaborative brew made its debut at the Lublin Craft Beer Expo. (2016).
The collaborative brewing has been used as a pretext to remind the world that the first records of growing and drying hops in Poland go back 750 years to the reign of Henry III, Duke of Wrocław. It goes to show that hops were used in Poland much earlier than in any other countries of Western Europe. Heller Bock opened up an opportunity to promote new-wave hop varieties, Huell Melon and Blanc, in Poland. We cooperate with the mission to bring forces together and promote alternatives to commercial production. We are looking for opportunities to build what we call "beer culture.' Camba and Christian Nuber were special guests of the 2017 Oktoberfest Alternative (2017). The event promotes traditions of Oktoberfest that used t be organized in Wrocław at the end of the 19 th and beginning of the 20 th century. We served beers brewed in Bavaria and Wrocław. The menu recreated by our chefs on the basis of a menu from 1924 Oktoberfest was a real attraction (Schweinernes, Weißwürste, Haxen, Hend'l vom Rost, Nürnberger Bratwürstel, Leberknödel and Kalbskopfe).