WRCLW the Capital of Craft Beer
We've been nominated for "Person of the Year" by Wrocław.com!
Voting continues until the end of February. We are the only couple among fantastic people who have done more for Wrocław than we did or who have contributed longer. So, what are the reasons why it is worth voting for us? Well, there are at least three, no counting the Brewery itself.
The victory will give us a chance to promote the role of beer in our city. We feel that we could all do with beer identity. For us, beer is what water is for the Mazury region or coal for Silesia. We should be open about it. If a representative of our industry wins the contest, we will have the opportunity to provoke thinking about beer from the perspective of the identity of the city and its dwellers.
The winner of the contest will be announced in early March. If we win, we will take advantage of the opportunity to promote craft beer at Geek Madness 2 and at the 6th the Wrocław Good Beer Festival. As any events, they also need promotion. However, there is more to it. Thanks to our victory, the media will see how important beer is to all of us. We'll provide a pretext for some editorial staff to refresh their point of view and start writing about beer from a new perspective. It is beer that gives the city a competitive edge. These two gatherings of craft beer enthusiasts have earned Wrocław the title of the Beer Capital of Poland in 2014.
The potential success will be considered a success of the entire industry. We can win only if we cooperate, collaborate and support each other. We realize how important these turn out to be. Sitting in an office in a corporation one does not even dream about having a joined project with an opposite number working under a different logo. We do need your votes. Our plans continue. We're going for a multitap event in Piwoteka in Łódź. – "WRCLW in LDZ".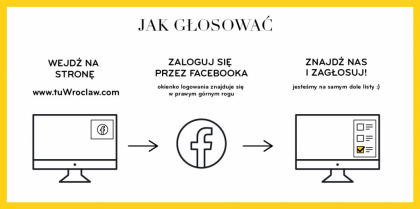 And here is the nomination itself:
"The Beer Industry. Browar Stu Mostów". A married couple who established Browar Stu Mostów at Jana Długosza Street in Wrocław that officially opened in the fall of 2014. 10 years following the closure of the Piastowski brewery, the capital of the Lower Silesia region has regained its own brewery. Based on a traditional brewing technology, the brewery has been named the most modern and the most beautiful craft brewery in Poland. Browar Stu Mostów is already famous for the merger between tradition and modernity. What has been maintained is the industrial character of the pre-war building where a brewery with an open bar was created. It is a brewery of its kind where guided tours are welcome. There is a team of brewers, bartenders and chefs working for guests. The mission is education and passion to help people understand how craft beer differs from commercial production."